HOW TO FIND CHEAP HOTEL DEALS IN 2022 (with examples)
Looking to score a deal on a great hotel? These tips & hacks will ensure you get the best price on your next hotel stay.
#1 Be flexible
We call this one the law of opposites. And essentially it's to go where other people aren't going. And most importantly when they aren't going.
 
Key-points:
If you're going to a business destination, then don't go during business days AKA weekdays. Go during the weekend.
This hotel in downtown Chicago (because business people gather downtown and not somewhere near attractions) is more expensive than if you'd go on business on weekends.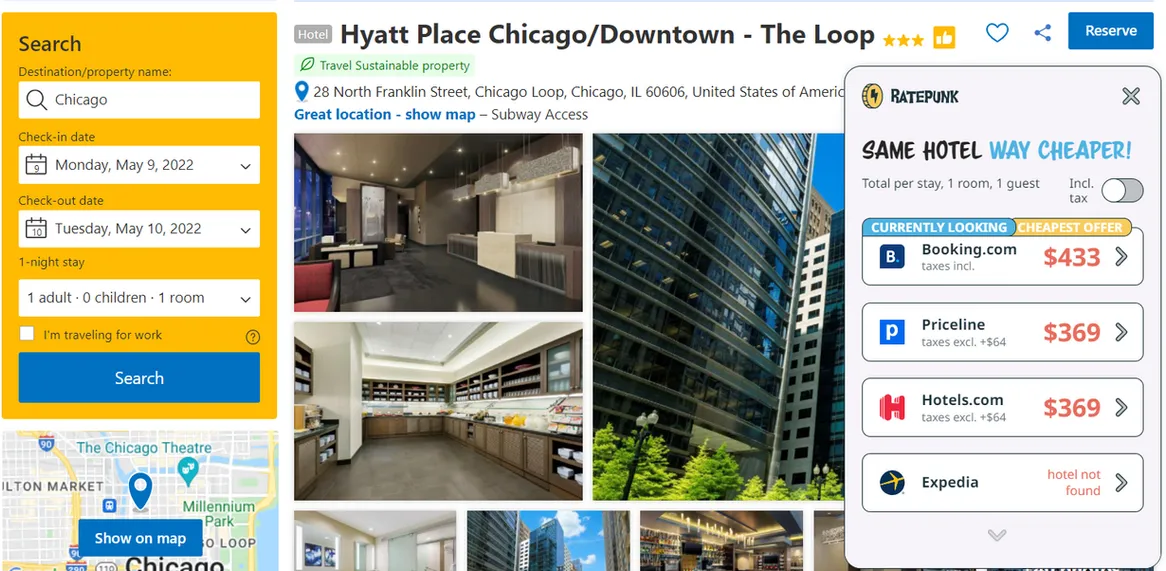 Here's an example of the same Hyatt Place in Chicago Downtown if you book your stay on the weekend. You save up to $100 just by picking a weekend for a business trip instead of going during the weekdays.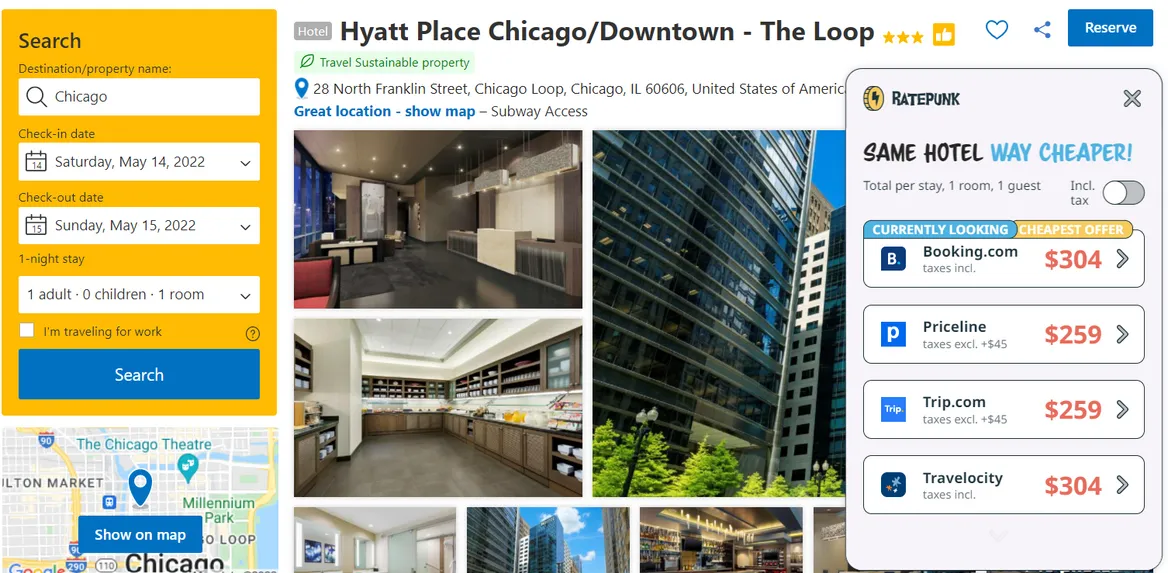 Hyatt Place Chicago / Downtown-The Loop
USA, Chicago
About
⚡ Located in the heart of the city, Hyatt Place Chicago/Downtown – The Loop is conveniently located near several of the city's social and cultural landmarks. This hotel offers a restaurant and fitness center. Free WiFi access is available.
⚡ Each room at the hotel provides a flat-screen cable TV, a sofa, and a refrigerator. Private bathrooms come complete with a shower, hairdryer, and free toiletries. Extras include a desk and iron.
⚡ A 24-hour front desk welcomes guests to Chicago/Downtown's Hyatt Place in the Loop, which features a shared lounge and TV area. Other amenities offered at the hotel include a business center, bicycle rental, and baggage storage.
Amenities
Indoor pool | Restaurant | Room service | Tea/coffee maker | Valet parking | Fitness center | Bar/Lounge | Free Wi-Fi | Coffee machine | Business center
If you're going to a resort destination, like Las Vegas, then go during the weekday. Because everybody goes to Las Vegas on the weekend.
See, this is Caesars Palace in Las Vegas prices for $618 per night on weekends. That's crazy expensive.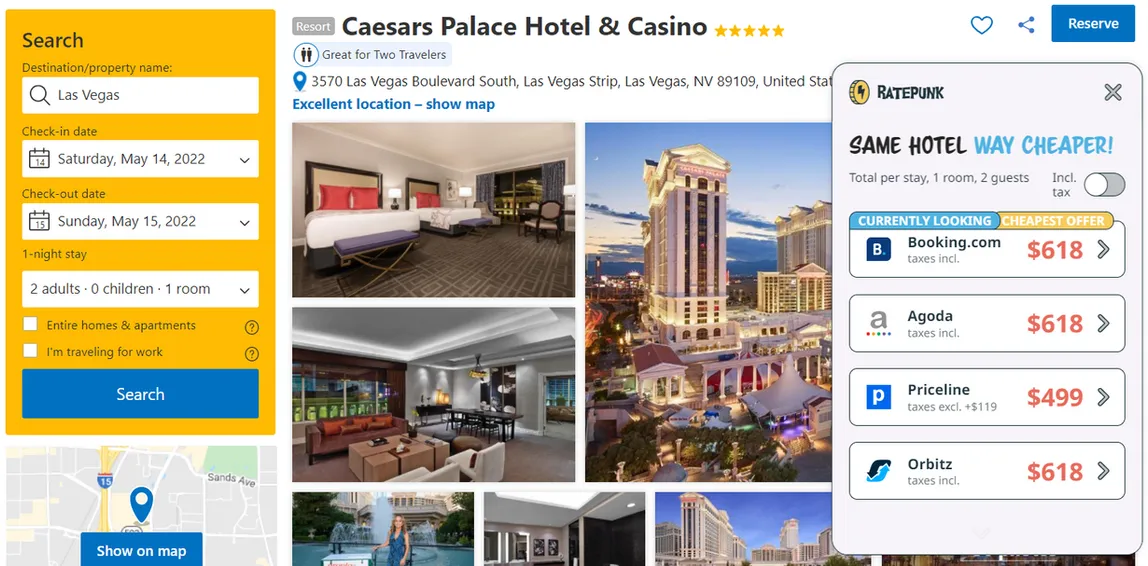 But then again, on weekends, many people in Las Vegas choose to go at that time. And now look - the same Caesars Palace on weekdays costs more than 50% cheaper. Savings right away!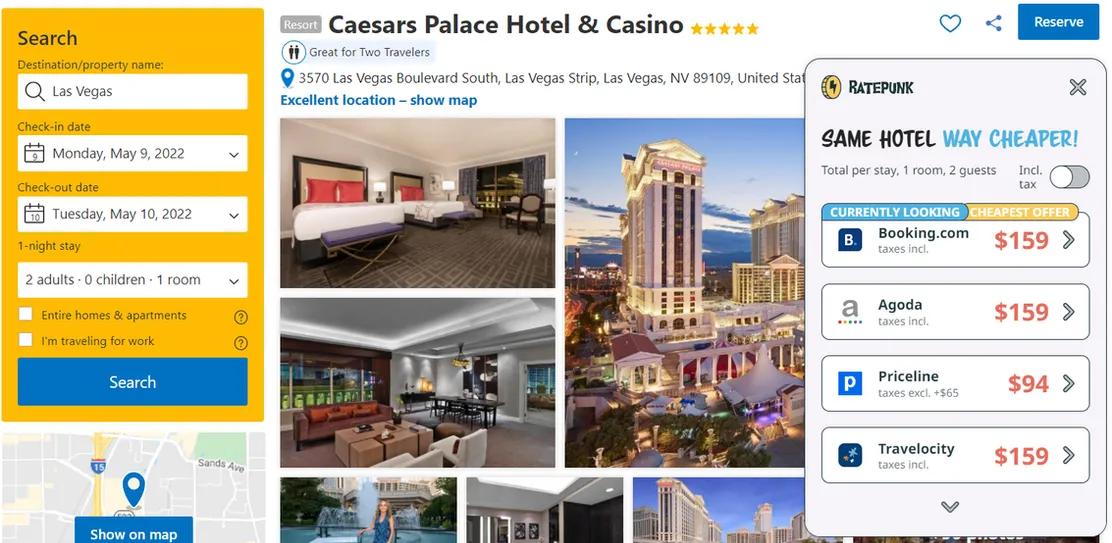 If you're going when there aren't many visitors, then the room rates are going to be cheaper, because they aren't very full.
Caesars Palace Hotel & Casino
United States, Las Vegas
About
⚡ Located on the luxurious Las Vegas Strip, this hotel and casino feature The Forum Shops, a state-of-the-art spa, and 7 swimming pools. Guests are welcome to visit the famous restaurants. All rooms have a flat-screen TV with cable channels.
⚡ The rooms have a private bathroom with free toiletries. Room service is available 24 hours a day.
⚡ The hotel features Gordon Ramsay's Pub & Grill and Hell's Kitchen. Chow, Guy Savoy Restaurant, Nobu Japanese Restaurant, and Bobby Flay Mesa Grill. Guests are also welcome to visit the famous Bacchanal Buffet, a 500-course buffet restaurant, Beijing Noodle Restaurant. 9 "and other cozy restaurants.
⚡ You can play poker, slot machines, and board games at the Palace Casino and spend time in the betting hall. Branded cocktails are available at Cleopatra's Barge Floating Lounge. Guests are also welcome to enjoy the Omnia nightclub.
⚡ Qua Baths & Spa offers a range of massages and facials and body treatments. Guests can relax with other unique spa treatments, including water treatments in the Roman baths and the Arctic Ice Room, featuring artificial snow on loungers.
Amenities
Outdoor pool | Restaurant | Room service | Tea/coffee maker | Valet parking | Fitness center | Bar/Lounge | Free Wi-Fi | Coffee machine | Business center
#2 Look for new hotels
New hotels, when they've just opened, not many people know about them. And because they are unknown to many people, their occupancy rates are often meager when they first open. And so new hotels offer significantly lower prices than the competition when they first open to get people to know them. So you book that cheap rate, you love it, then when you come back a year later, those prices have suddenly gone up.
Key-point:
If you're searching on Marriott, Hilton, Hyatt, or other big hotel chain websites, take a look for the hotels that have that new marker, to score yourself a good deal.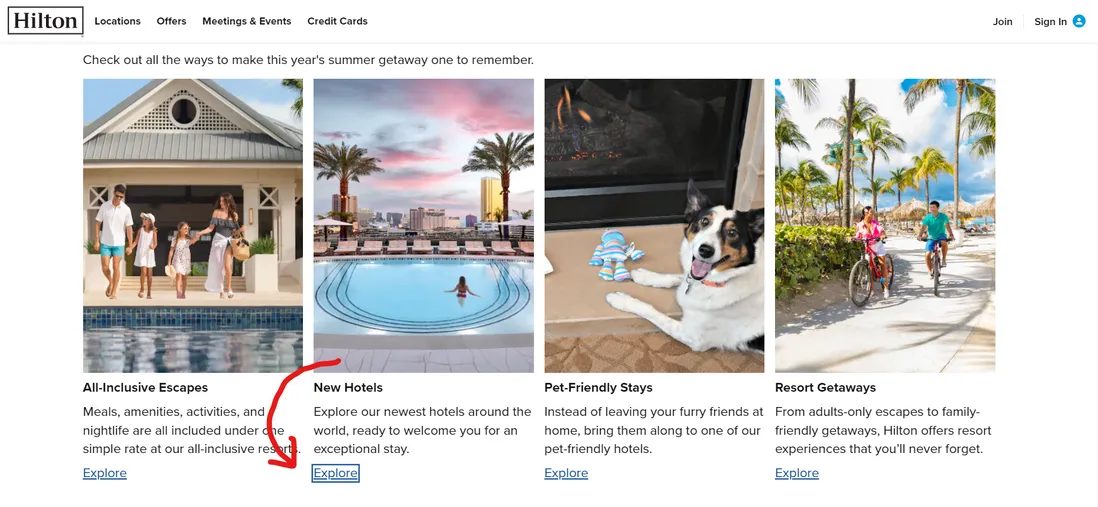 One of the newest Hilton hotels is located in San Jose, California. So, we checked the price per night, and the average is around $427.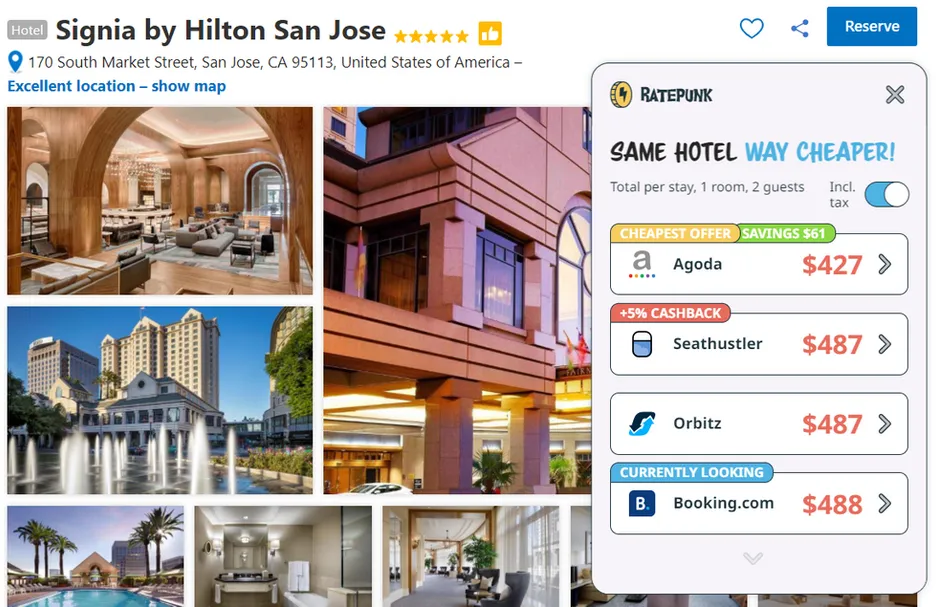 Meanwhile, the other Hilton's chain hotel in San Jose, California, not being new, costs a bit more. Of course, it's not such a drastic increase, but if you add $50 change for a 5-day stay - you save around $250. That's tempting.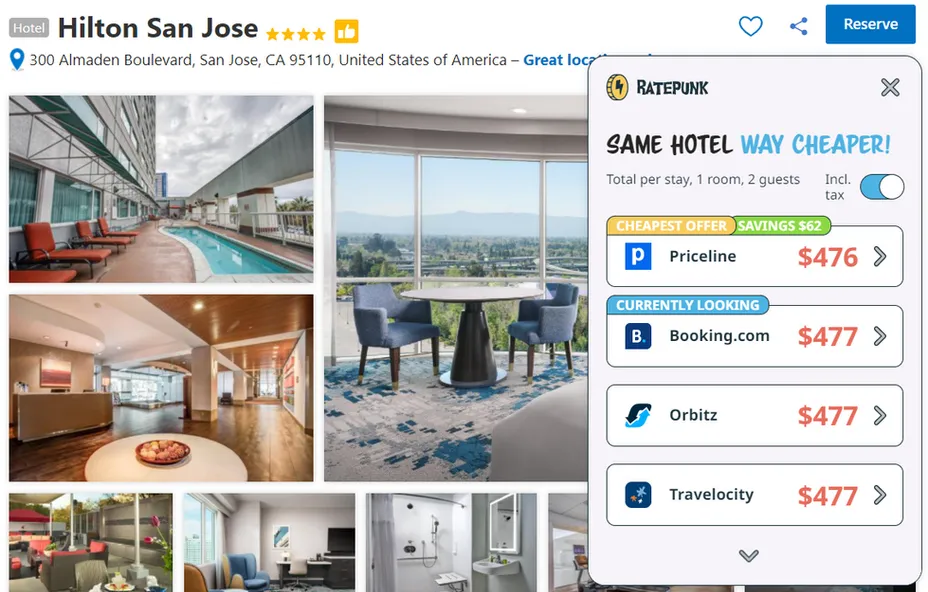 Signia by Hilton San Jose
USA, San Jose
About
⚡ Centrally located in downtown San Jose, this hotel boasts a rooftop pool, 6 restaurants, and an outdoor rooftop pool. The SAP Center at San Jose and San Jose State University is a 10-minute walk away.
⚡ Plush bathrobes and exquisite Le Labo bathroom toiletries are provided in all rooms. Each spacious room at Signia by Hilton San Jose also offers a marble bathroom with a walk-in shower, separate bathtub, and bathrobes. A cable TV and a coffee machine are also provided.
⚡ Guests can also use the gym. A conference center is available for business guests.
⚡ Dining options include a casual breakfast or lunch at the newly renovated Fountain Restaurant, a steak lunch or dinner at The Grill on the Alley, or drinks and appetizers right in our lobby lounge.
⚡ The San Jose Convention Center is a 5-minute walk from The Fairmont. The Children's Discovery Museum is a 15-minute walk away. Heritage Rose Gardens is a 10-minute drive away.
Amenities
Restaurant | Room service | Tea/coffee maker | Valet parking | Fitness center | Bar/Lounge | Free Wi-Fi | Coffee machine | Business center
Hilton San Jose
USA, San Jose
About
⚡ The Hilton San Jose hotel is located in the heart of Silicon Valley, connected to the San Jose McEnery Convention Center, and only three miles from the San Jose International Airport. 
⚡ The Hilton San Jose is in the heart of a bustling city flourishing with industry, culture, and beauty, rich with history and vibrant nightlife. 
Amenities
Outdoor pool | Restaurant | Room service | Tea/coffee maker | Valet parking | Fitness center | Bar/Lounge | Free Wi-Fi | Coffee machine | Business center
#3 Avoid the major chains
Avoid major chains such as Marriott, Hilton, Hyatt, particularly if you're traveling internationally and particularly if there's only one or two of those hotels in the particular city. Because Marriott will charge a premium when there's only one Marriott in that city. But what if you like the chains because of the consistency and you trust you'll be in good hands? Well, our recommendation would be to find local chains.
Key-points:
If you're going to Japan, for example, you'll get much better deals staying in the hotels that are run by Japan Airlines, or by ANA. They will be half the price of the big international Marriott, Hilton, Hyatt chains, and pretty much a similar quality.
The only drawback to not staying in the major chains, well you don't get those reward points. But say you're going to Taiwan. The Hyatt there can be around $300. But one of our favorite hotels is a local chain in Taiwan called K Hotel. You will get rooms at K Hotel for $80. So maybe that's okay to not get reward points, and save $220 per night.
You see Marriott in Osaka, Japan, for $273, and it sounds a lot like a good deal, but let's be honest - this is a 5-star hotel, but you pay not for service here but for the hotel name. So yes, the good thing - if you're a member of Marriott, you definitely get reward points. But is it that vital if you can book another (local chain hotel) way cheaper?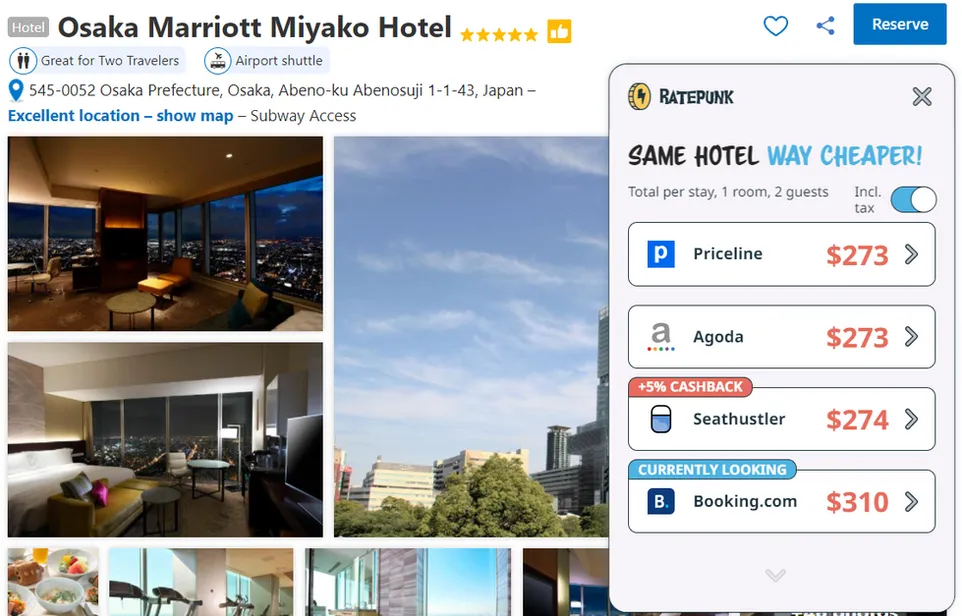 This one's a fine 5-star hotel in the same Osaka, Japan. And this is what we call - an amazing deal. Big savings and the same exclusive experience.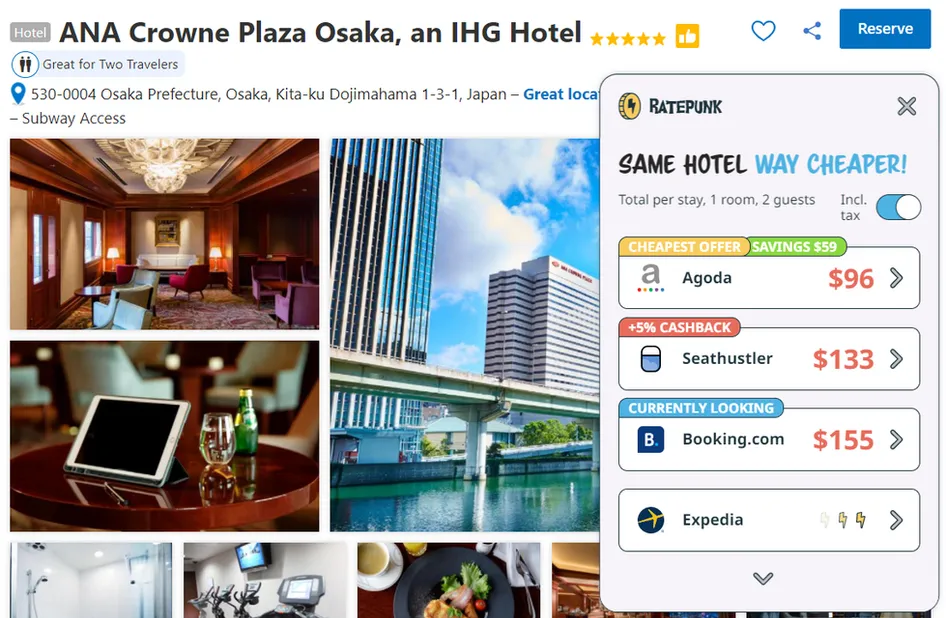 Osaka Marriott Miyako Hotel
Japan, Osaka
About
⚡ Occupying floors 38 to 57 of one of the tallest buildings in Japan, Osaka Marriott Miyako Hotel is your luxury haven in the sky.
⚡ Discover Universal Studios Japan, Shitennoji Temple, Osaka Castle, Tsutenkaku Tower, Tennoji Zoo, Dotonbori, Shinsaibashi, and other famed attractions. Before the day begins, recharge from one of many on-site restaurants and live kitchens. 
⚡ Energize in Osaka with exhilarating workouts at the fitness center and relaxing evenings at the stylish lobby lounge and bar. Plan flawless meetings, magical weddings, and memorable social engagements in the streamlined, flexible event space. 
⚡ Your five-star hotel room or suite features thoughtful perks, signature amenities, soft bedding, and stunning floor-to-ceiling windows overlooking Osaka, Japan. A sanctuary for business or leisure, Osaka Marriott Miyako Hotel provides you with the tools you need to travel brilliantly.
Amenities
Fitness center | Restaurant | Bar/Lounge | Room service | Free Wi-Fi | Coffee machine | Coffee shop | Business center | Flat-screen TV | TV
ANA Crowne Plaza Osaka, an IHG Hotel
Japan, Osaka
About
⚡ Whether traveling solo or with family, accommodation in Osaka offers a variety of room styles. Crowne Plaza Club guests enjoy access to the Club Lounge with spectacular views from the 24th floor over the Dojima River and incredible benefits like complimentary tea time and evening cocktails with canapes.
⚡ The hotel is located a short distance from Umeda & JR Osaka Rail Station and an hour drive from the Kansai International Airport. Find your Osaka lodging within minutes of Japan's world-famous Kita-Shinchi entertainment district. Your options are endless for dining, shopping, and traveling around the area.
⚡ The indoor pool is refreshing and beautiful, and the on-site fitness center is open 24 hours to ensure you can work out, regardless of your schedule. In addition, the concierge is happy to recommend activities to suit your needs and preferences.
Amenities
Outdoor pool | Restaurant | Room service | Tea/coffee maker | Valet parking | Fitness center | Bar/Lounge | Free Wi-Fi | Coffee machine | Business center
#4 Affiliations and coupon codes
What do we mean by affiliations? We mean things like are you a member of AAA? Are you a member of AARP? Are you a member of some company that has discounts with the particular hotel chain? Make sure you use those things. The affiliations like AAA, and being a senior AARP many hotel websites have little check boxes, where you can see those rates. It's always worthwhile to do that.
Key-point:
For example, the AAA rate can often be $20 to $30 cheaper than the regular rate, at almost every Marriott.
If you search on the Hyatt website, always check your discounts after filling in the dates (for example, you are a member of AAA - let them know that).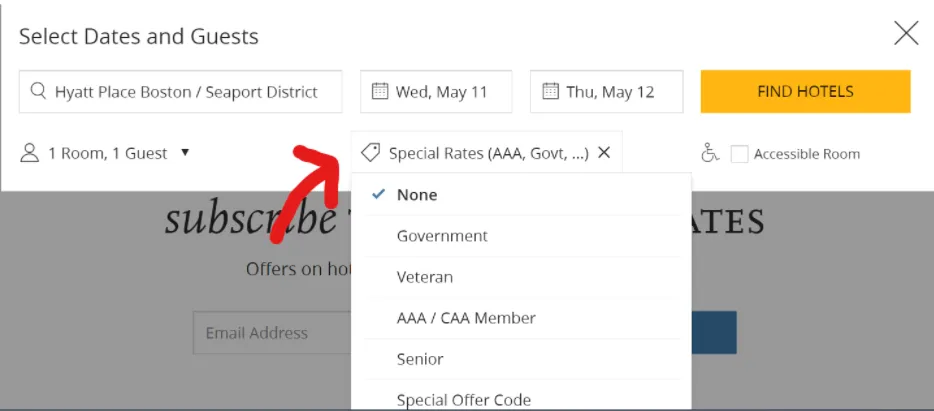 And see the magic. When we talk about discounts and getting lower prices, it's not always about saving a million dollars. But dollar plus dollar - it's a cup of coffee already. See?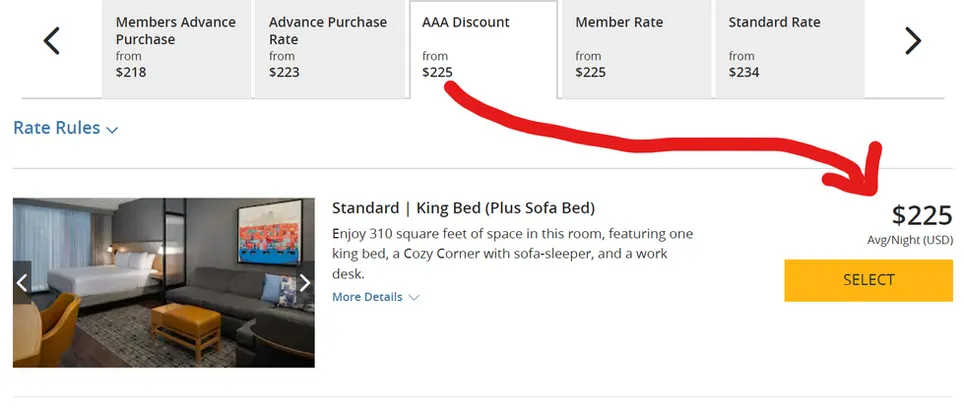 Also, almost all the hotels have coupon codes that you could put in. Those coupon codes or discount codes, they're often corporate codes that are negotiated between certain companies and the hotels. But they'll also have certain discount codes for certain promotions or various weekends.
You can search online for coupon codes for the major chains. But we suggest you to not use a coupon code that you're not eligible for. If there's a coupon code that says it's only eligible for employees of IBM, and you don't work for IBM, well when you get to the hotel, they might ask you for your IBM identification. And if you don't have it, you may be stuck paying the full rack rate, which can be pretty expensive.
#5 Promotions
These are different from coupon codes and affiliations. But sometimes hotels will have promotions like: stay three nights, get the fourth one free. So where do you find these things? Well you can certainly find them on the hotel website. But you can also find them on deal aggregators. Other types of promotions you'll often find are the ones that provide free breakfast, that provide resort credits, like $50 to $100 a night, for staying in the hotel. You can use those credits at the hotel's restaurant.
Key-point:
There might be promotions where you get more points. So, for example, if you're staying at Hyatts they might have double points promotions. But, when you're looking at those rates related to the promotions (for example, stay three nights, get the fourth one free), you should actually check if those rates are cheaper. Sometimes using those promotions stay three nights, get the fourth one free, but they increase the rate of those 3 nights, so the fourth one isn't really for free.
This is an example of our 5-night choice at Grand Naniloa Hotel Hilo - a DoubleTree by Hilton in Hawaii. So, as we selected a minimum of 5 nights, we have the fifth one free. In total, we would pay $1,450 (taxes included). The average price per night at this hotel is $208. So that means if all nights are equivalent to each other, we should be paying 208 x 4 (because the 5th on Hilton) = $832. Well, for the room only (taxes excluded), we are still paying more than $1K. Not the best deal so far…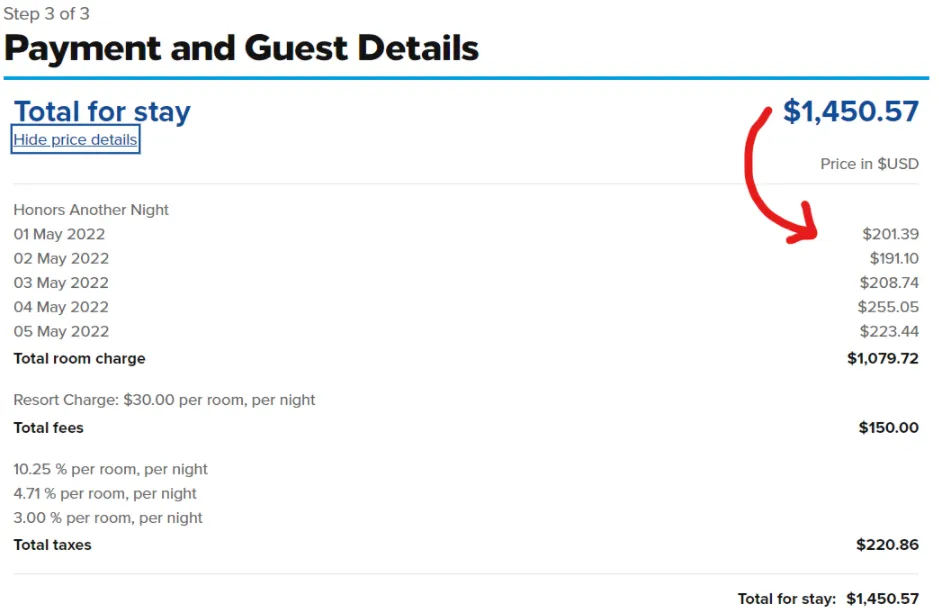 So make sure you take a good look at those promotions and see if it's actually a great deal.
#6 Long stay & Advance booking
Stay for a long time and book in advance. You might be wondering why these two tips are combined? Well both of these are generally discounts that many hotels offer. One is usually advanced booking discounts. You'll find many hotels provide discounts for booking 30, 60, or 90 days out. You'll often find hotels will offer long stay discounts, that usually start at five or seven days.

Key-point:
So, sometimes it might be cheaper to stay at the hotel for seven days, than it is for five days because that's when that long stay rate kicks in.
An outstanding and gorgeous Mondrian in the heart of London would cost you $964 (and it's only because we used price comparison) for a 2-night stay. That's around $336 per night. But, if you add just a couple more nights - see the magic.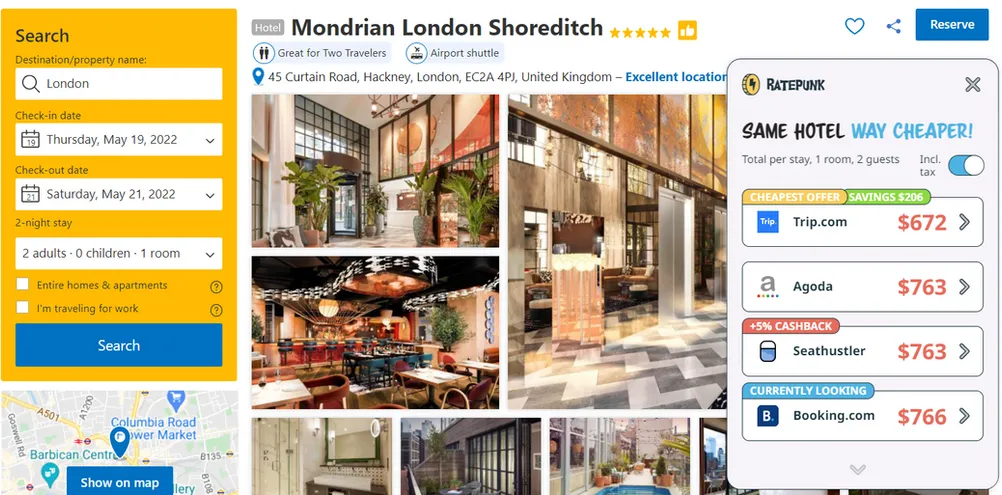 That's the price we get for adding 2 more nights. The cost per night comes down to $241, which is almost $100 cheaper than if you're staying for only 2 nights at this hotel. Of course, it doesn't always work that way, but that's how you save in most cases.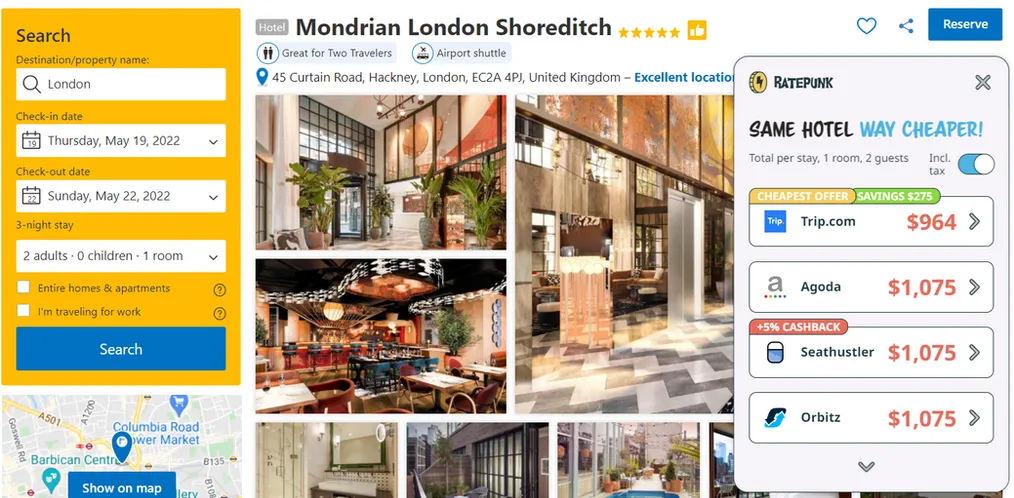 If you're staying for a really long time, it might be even useful to call up the hotel, and ask them if they offer any long stay or extended stay rates.
But what to do, if you're not sure 90 days before if you're really going? Well, always book refundable hotel rates. Never book a non-refundable rate, unless check-in is today or tomorrow.
Mondrian London Shoreditch
United Kingdom, London
About
⚡ The Mondrian London Shoreditch is a unique five-star hotel located in the heart of Shoreditch, London's creative and cultural hub. As well as its vibrant and convenient location, this Mondrian hotel boasts 120 stylish guest rooms and suites, a rooftop pool, lounge, 24-hour gym, spa treatment rooms, and a co-working space. 
⚡ Hungry? The new Mondrian Shoreditch offers several signature food and drink brands, including a culinary experience, BIBO Shoreditch, by world-famous Spanish chef Dani García.
Amenities
1 swimming pool | Non-smoking rooms | Fitness gym | Rooms and services for disabled guests | Restaurant | Room service | Wi-Fi is available in all areas | Bar | Delicious breakfast
#7 Be creative with your searches
What do we mean by creative? If you're staying at the hotel for a week, and the week looks kind of expensive, well, try searching for one day at the time, or just a weekend section, just a weekday section.
Key-point:
You might find that actually making three reservations at the same hotel might be cheaper than a week long reservation, because when you make a week-long reservation, it makes all the nights equivalent to the most expensive night. Whereas if you book the individual ones, it might give you a cheaper rate.
#8 Use multiple search engines & aggregators
It's good to use a hotel's website, but when the hotels say they have the best price guarantee, that doesn't actually mean that their website has the best price. What that means is that if you find a cheaper price in some other place they'll give you the difference back of what you booked, but it doesn't mean it's always the cheapest.
Key-points:
The 5 best search engines that we recommend and that are really trustworthy you can find here.
If you are going to a specific country, there might be country specific aggregators that are useful. The one for Japan, for example, is Rakuten.
Also make sure that every time you're signed in when you're searching. Whether it's on the hotel's website or through the aggregators. Many of these search engines (listed here) will provide you cheaper rates if you're actually signed in.
One more thing, using aggregators for the best price is time-consuming really. So, instead of going back and forth checking different sites for the same hotel and hoping to find the cheapest rate - use some help. The newly launched browser extension RatePunk compares the prices for the same hotel live while you search for the accommodation. It supports the biggest OTAs as booking.com, Expedia, Agoda, Travelocity, Orbitz, Priceline, hotels.com, trip.com. And it works with different currencies around the world. RatePunk is free to use, and takes a second to start working.
In this case, if booking.com suggests you book for $821, let's discuss… Because it seems like Priceline has a better deal to offer you. Don't be scared of technologies, these tools are total game-changers in the travel industry.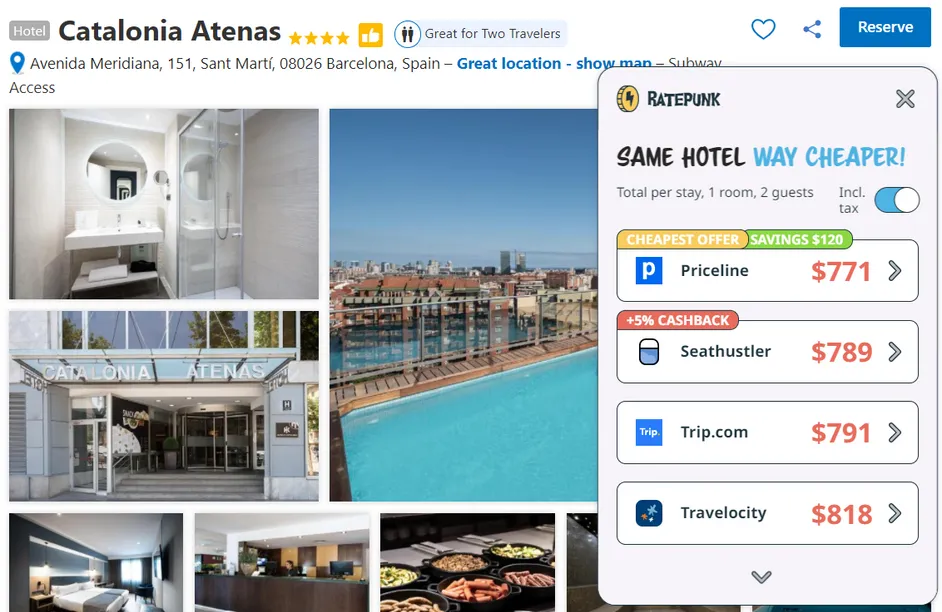 Catalonia Atenas
Spain, Barcelona
About 
⚡ Located 3 metro stops from central Barcelona, ​​Atenas Catalonia offers a rooftop pool with views of the nearby Torre Agbar and Sagrada Familia, a gym, spa with a Turkish bath, and free Wi-Fi.
⚡ The bright, furnished rooms at Hotel Atenas Barcelona have wooden floors, air conditioning, a mini-fridge with free water, and satellite TV.
⚡ This hotel serves a buffet breakfast in front of guests. The hotel also has a snack bar and a swimming pool on the 11th floor with spectacular city views.
⚡ The Sagrada Familia is just over 1 km from the hotel, and Les Glòries Shopping Center is a 15-minute walk away.
Amenities
Outdoor pool | Spa and wellness center | Fitness center | Restaurant | Bar/Lounge | Room service | Free Wi-Fi | Wi-Fi available in all areas | Flat-screen TV
#9 Check the hotel's website too
Do that as well, so you can find out if there's a promotion, you might find there's different rooms, there might be different availability, you might get different perks if you book directly through the hotel. So definitely don't just use aggregators all the time.
#10 Get the hotel's credit card
If you're staying at a major hotel chain, Hilton, Hyatt, Marriott, they all have affiliated credit cards. If you're gonna be staying at any of those chains a lot, get the hotel's credit card.
Key-points:
For example, if you have a Hilton credit card you can get free breakfast, late check-out. And it's all just for having that credit card.
Sure, there's an annual fee that comes along with it, $80-$90, but if you stay more than a few nights at the Hilton hotel, that free breakfast benefit will easily pay for itself back. Because breakfast in hotels can be really expensive.
And if you use that hotel's credit card to pay for your booking, you'll earn more points than if you just use a standard credit card.