WHERE TO STAY: HOTEL OR AIRBNB? INSIDER'S INSIGHTS
When Airbnb stepped into the market, it changed the hotels game for good. Offering an authentic vibe & providing the opportunity to rent almost any property out, Airbnb became the biggest competitor for them all. But which one to choose? Is it true that Airbnbs are often cheaper? We tried to answer all the questions that may come up in your head when choosing from Airbnb & hotel.
PRICE 
Airbnb has been known to offer lower prices than hotels do. Nevertheless, this aspect, held the most significant Airbnb advantage, seems to be getting lost in the taxes. 

Usually, people renting out their properties didn't have to pay the business fees mandatory for commercial properties (hotels, for example), resulting in an often significant price difference. For example, a Quartz report noted that, on average, the rate per night for a whole Airbnb house rental was $160.47 compared to $163.90 for a hotel room. However, some of the most popular tourist destinations started applying the same taxes for Airbnb owners, so the pricing gap will narrow down noticeably. 

Even though the prices might be becoming similar, there's one thing that puts Airbnb first at this point. And it's…
DISCOUNTS
With hotels - it's all set. Will you negotiate the price in the reception? Not really. And when it comes to Airbnbs, there's way more flexibility. The owners are willing to make some exceptions on the price, especially if it's the off-season or you're staying for a more extended period of time. Airbnb surely wins this one. 

If you're still a fan of hotels but still want to get something similar to a discount, you can try the RatePunk extension. It'll ensure you get the best price & in some cases, you'll get the hotels for lower prices than mid-range Airbnbs. Here's an example - you can save $181 on a 4-star hotel in Barcelona: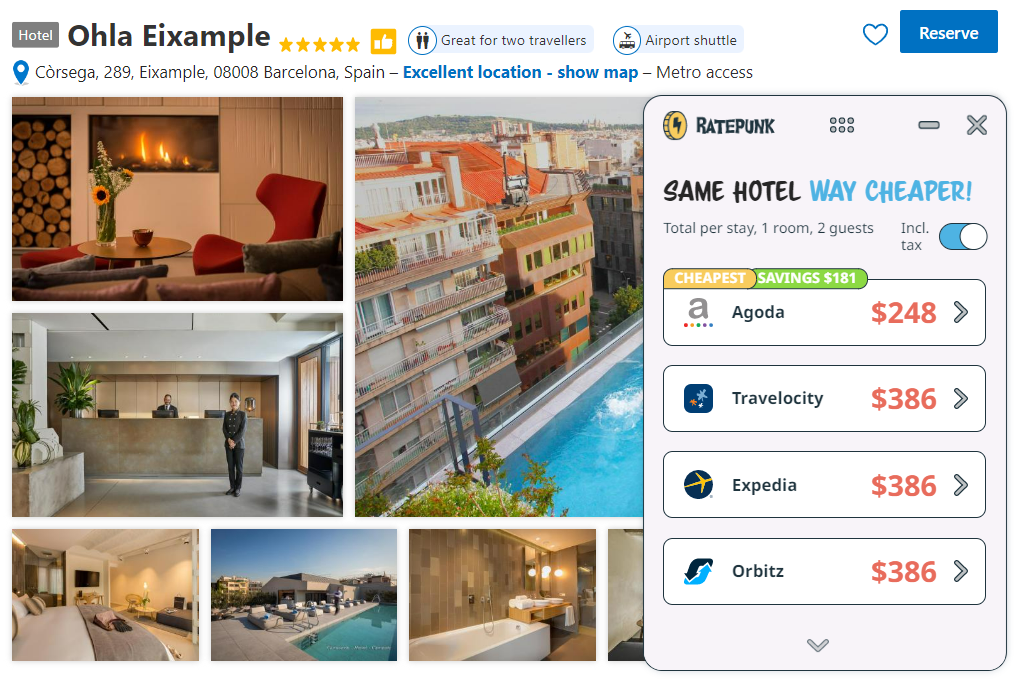 SECURITY 
When you're staying at an officially approved and known hotel, there's no worrying that you'll feel safe. When booking an Airbnb, on the other hand, you're not always sure what'll be waiting for you when you arrive. It has no strict guidelines regarding it, and it may complicate things a bit if you're booking a property with fewer reviews. 
GUARANTEES 
This goes for quite a few aspects: last-minute cancellations, the accuracy of the pictures, and customer service.
Last-minute cancellations.

With hotels, even if you can't cancel your booking last-minute, so can't they. Airbnbs, however, do not guarantee that the property owner won't call you off at the last minute. 

Accuracy. 

You see one picture in reality but find a completely different place when you go there? The chances of this are lower when booking a hotel. But who doesn't love a good surprise?

Customer service. 

There's no secret that Airbnb customer support tends to fail quite often. They rarely can do anything about your problems with

the property owner if you can't solve them eye-to-eye. 
LOCAL EXPERIENCE
Staying at a hotel will give you a standard room with some cultural elements at the very best. Airbnbs more often have the vibe & indulge you in the local lifestyle. You'll live surrounded by the locals & not other tourists, which may open quite a few opportunities. If you're down for it, of course. 
NUMBER OF TRAVELERS
If you're going with a group, it might come in handier to stay at an Airbnb. You'll be able to take the whole apartment, and the price after dividing it will be most likely more worthy than booking separate hotel rooms. It's also the go-to option if you're planning to stay for a longer period - it'll give you more chances to get a discount & you won't have to change the place too often. It'll indeed feel more like home.
IMPACT ON LOCALS
That's the aspect that only a few people consider. Because of the vast numbers of people renting Airbnbs for short stays, the rent prices for the locals go up, and more popular tourist destinations choose to limit their policies regarding it. Take Barcelona, for example: the government wants to ban short-term rooms rent for tourists and starts with only allowing it for stays longer than 30 days. 
---
All things considered, there's no black & white with this choice: it'll be mostly based on your values & trip goals you've set, so it will be different with each trip. Unless you're a hardcore lover/hater of one of the options.